No matter where you look, there's an app to solve most day-to-day problems. The workforce is no exception. However, a major pain that even the most innovative technology can't seem to remove from our workdays: meetings. While meetings can be helpful for getting teams on the same page, an astonishing 67% of meetings are unproductive.
It doesn't look like meetings will be going away anytime soon, but in the meantime, Zoom.ai can streamline your meetings experience by helping you recover up to 20% of your valuable time typically focussed on meeting preparation:
Meeting Scheduling
Imagine booking your meetings without even opening up your web calendar.
Great ideas happen fast and so do new meetings! If you've been planning a meeting with a colleague in passing or on internal company chat (ex. MS Teams), you can quickly pop into another conversation with your Zoom.ai assistant to ask them to schedule your upcoming meeting — all without leaving the chat window:
If you're still figuring out a time that works for both you and your colleague, you can leave it to Zoom.ai to sort it out. Zoom.ai will ask your colleague to pick times based on their calendar AND your calendar availability:
The more people you add to a meeting, the harder it becomes to find a common time for everyone. Luckily, Zoom.ai is also skilled at corralling large groups. Once everyone has selected a few of times that work, Zoom.ai will pick and send out invites for the selected time: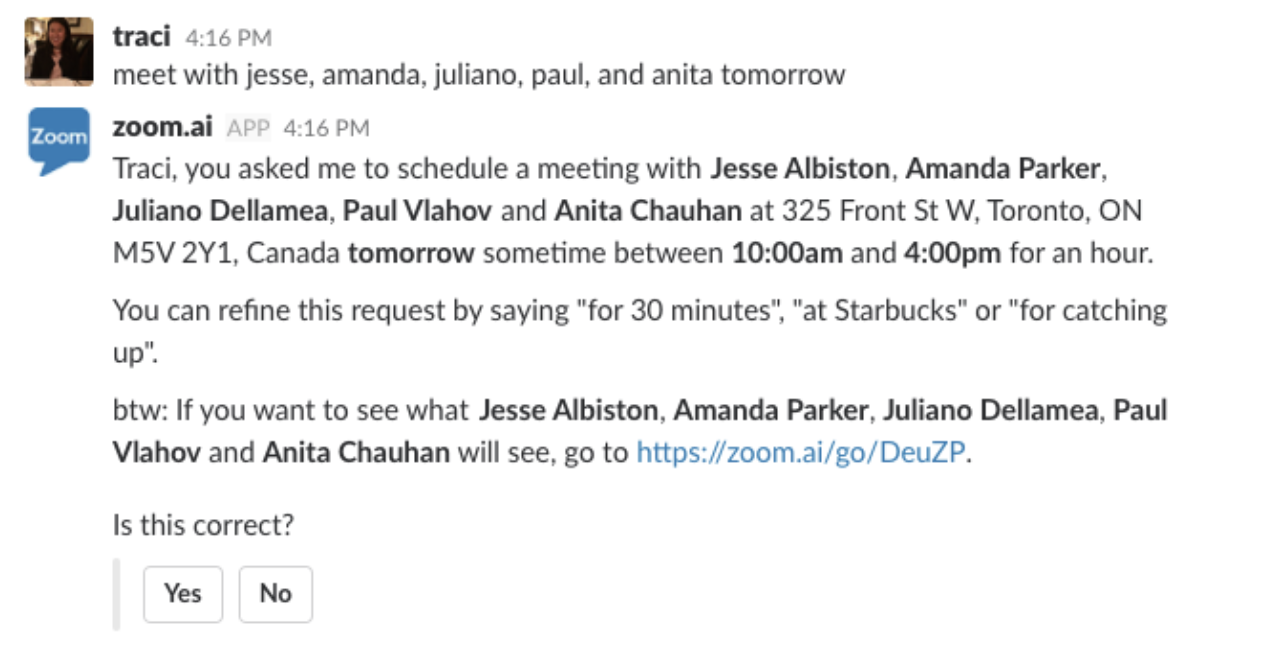 As seen above, Zoom.ai chose the times of 10:00 AM – 4:00 PM to set up meetings. In your Settings, you can see that as you use it more, Zoom.ai learns your preferred times for breakfasts, lunches, and meetings. However, you also have the option of adding in the times you prefer manually. You can also change the days you are available for meetings and add in designated "down time", to ensure your day doesn't become a block of meetings.
While meetings have become something we all collectively dread, they remain necessary to the growth of a company. Maintaining collaboration and communication through the company, there are undoubted positives to them. Don't let them be a death sentence; consider taking out the guesswork from meeting scheduling and automate them. Get started now, or contact us to learn more about the product.