Everyone deserves a great work experience. That's why Zoom.ai has made it our mission to make your workday more productive. In the last few months, we've released additional enterprise software integrations that help save the average enterprise employee 15 hours per month — an 9% average monthly productivity gain!
This week we're eager to announce our ServiceNow integration. ServiceNow is a cloud platform that helps streamline the enterprise by providing employees with a support incident ticketing and knowledge base solution. Enterprises can now integrate ServiceNow with their Zoom.ai automated assistant and do the following:
Search
Find the information you're looking for through chat! Employees can access their ServiceNow entries and the ServiceNow knowledge base and view information — all within seconds through chat..
Easily access ServiceNow incidents and tickets.
Simply ask your Zoom.ai assistant to "search for…" and enter the query.
Receive a summary and a link back to the ServiceNow entry — all within chat.
Automated Ingestion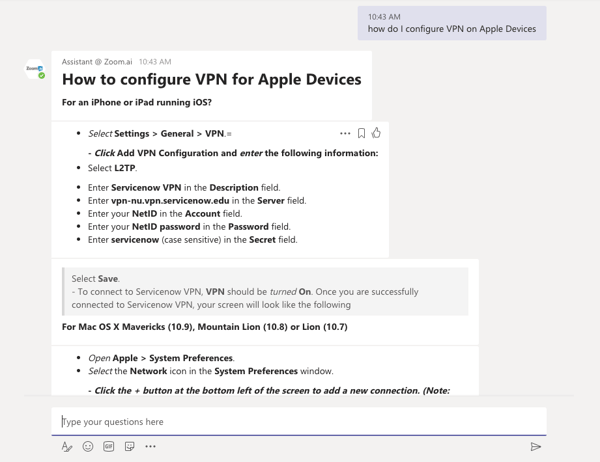 Expand and unify your knowledge base by making multiple sources of data available across platform from your Zoom.ai assistant.
Zoom.ai assistant automatically, and quickly, ingests your company's information upon integration.
Equip your employees with a singular point of access to all their ServiceNow information, within chat.
All information and data is subject to Zoom.ai's privacy policy
Ticketing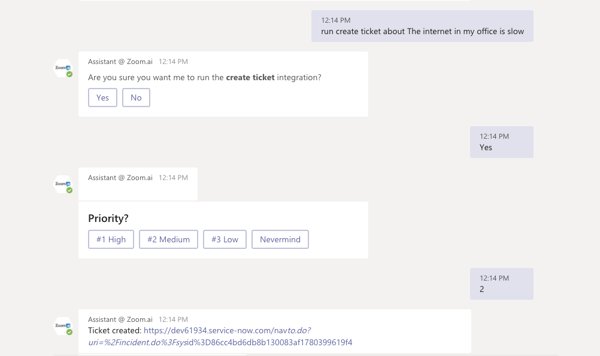 Conversationalize your support ticketing experience with Zoom.ai! Employees can now submit support tickets, and stay up to date with their status, all without leaving their chat platform.
IT administrators can benefit from decreased ticketing, through a comprehensive knowledge base search prior to ticketing, and increased efficiency from a streamlined ticketing process.
Zoom.ai and ServiceNow share a common goal of making your enterprise work better, allowing your teams to spend time adding value, instead of adding tickets.
Integrations
Our two popular add-ons, Microsoft Flow and Workato, also integrate into ServiceNow, allowing customers to create their own workflows!
Update tickets and setting notifications on ticket statuses within chat.
Set-up workflows between Zoom.ai and your entire tech stack to easily automate your Servicenow experience.
Whether you're in IT, HR, or customer service, integrating your ServiceNow account with Zoom.ai can help make your enterprise more productive and increase visibility across your entire organization. Get started today!